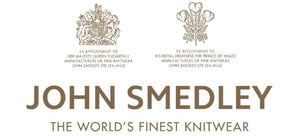 John Smedley
---
John Smedley knitwear made in England.
John Smedley was established in 1784, also known as the oldest manufacturing factory in the world.
John Smedley was granted the Royal Warranty of Appointment as "Manufacturer of Fine knitwear" by Her Majesty Queen Elizabeth ll and His Royal Highness The Prince of Wales.